TeSys

D
IEC contactors from 9 to 150A
TeSys D contactors are available in 11 contactor ratings for inductive motor applications from 9 up to 150 full-load amps and resistive loads up to 200 amps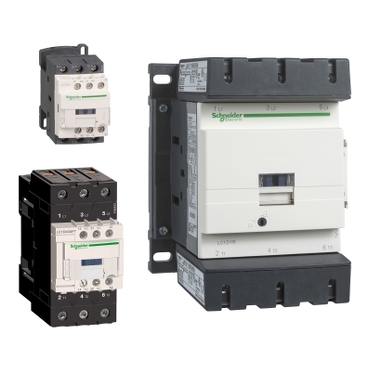 Features

The TeSys D contactors and overload relays are the largest selling line of contactors and starters in the world. They offer high reliability with long mechanical and electrical life and the most complete line of accessories in the industry
• TeSys D contactors are available in 11 contactor ratings for the North American market for inductive motor applications from 9 up to 150 full-load amps and resistive loads up to 200 amps
• Designed to control and provide overload protection to motors rated up to 125 HP at 600 VAC, TeSys D meets your needs for a majority of motor starter applications.
• High-fault short circuit current ratings provide the flexibility to select any component, as long as it meets or exceeds the desired SCCR.
• Three levels of ratings
- Available at 100 kA on systems with fuses, up to 600 volts.
- Available at 50 kA on systems with circuit breakers, up to 600 volts and up to 150 amps.
- Available at 85kA on systems with circuit breakers, up to 32 amps at 480 volts and 100 kA up to 150 amps.
• Eliminates the time-consuming process of selecting tested combinations through web sites and spreadsheets.
• 3-pole and 4-pole contactor versions available
• All contactors include built-in auxiliary contacts
• All screw connections have IP20 finger-safe terminals with both North American and International terminal markings
• TeSys D contactors can be panel mounted with screws or DIN rail mounted
• Easily Installed Accessories
- Auxiliary contact blocks with serrated wiping action
- Front mount dust tight auxiliary contact blocks
- Pneumatic time delay blocks
- Transient voltage surge suppressors
- Interface modules and electronic timers
- Mechanical latching blocks
• Control Circuit Flexibility

TeSys D contactors are available with AC or DC operating coils. Several devices utilize a low consumption dc coil with built-in transient suppression for operation with a low-level dc signal from a computer or PLC without need for an interposing relay
The new TeSys D Green contactors feature Electronic coils that operate on AC and DC voltages with very wide operating range and low consumption. The 40A to 65A version with dedicated 24VDC coil can be controlled directly from a 500mA PLC output eliminating the need for an interposing relay or interface module.

• A choice of wiring connections, including spring terminals, ring tongue terminals, slip-on terminals and screw clamps, provides flexibility in meeting specific, application. requirements. Patented Everlink termination technology available on 40A to 65A contactors and overload relays


TeSys D overload relays
Class 10 or Class 20 bimetallic overload relays are available up to 140A. They are bimetallic ambient compensated and are available with or without single-phase sensitivity for phase unbalance and phase loss protection. New solid-state overload relays are available for 90 to 150A applications.
· Both bimetallic and solid-state overload relays include the following features:
- Isolated N.C. trip contact and N.O. alarm contacts
- Manual or automatic reset function (bi-metallic versions only)
- Tamper-resistant window for FLA settings
- Test trip button

Benefits

Take control of integration
In addition to its new look, the TeSys D contactor offers you quick simple setup, while maintaining a compact size of 45 and 55 mm (40 to 65 A) as well as compliance with international standards. From 40 to 65 A versions are equipped with EverLink, this new patented terminal technology, assures a permanent tightening quality even in the event of conductor creep. The New TeSys D Green versions electronic coil provides significant energy savings and generate less heat inside control panels as well as being less susceptible to undervoltage, overvoltage and voltage sag.

Applications

Industry, infrastructure, building, etc:

TeSys D contactors have been designed for perfect integration in control systems
They can be used to create motor starters for any type of application.