Low Voltage Unit Substations -
Unit Substation
-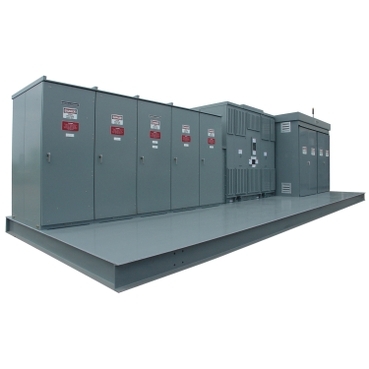 Features

Square D® can assist in your distribution needs in the 600 volt and below voltage classes. We offer a wide variety of low voltage distribution equipment that can be combined to form one common coordinated unit substation.The unit substation is a vital piece of equipment to be considered when planning electrical system demands. Square D unit substations are single products that are designed, coordinated, assembled, tested and brought together at the jobsite to form one complete electrical distribution assembly.

The benefits of choosing a Square D unit substation are numerous:

Total coordination to ensure ease of installation at your jobsite.
Single point of contact and assistance.
Complete substation composite layout drawings.
One line drawings showing electrical flow through substation.
Custom design and coordination of special handling or shipment schedules.
Interconnection hardware and installation instructions.
Square D warranty coverage for the entire unit substation.

Various combinations of incoming sections, transformer sections, and distribution sections make possible a variety of designs.